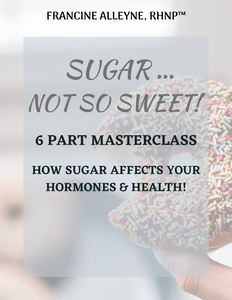 In this pre-recorded six-part masterclass, "Sugar, Not So Sweet – How Sugar Affects Your Hormones and Health", you'll learn:
Some shocking facts about sugar.
How sugar affects your hormones leading to unwanted symptoms.
Why you need a sugar cleanse.
Where sugar is hiding out in foods.
Sugar is more addictive than any drug on the black market, and it's hiding in foods that are considered healthy.  This masterclass has critical information about sugar that will help you with your sugar cravings.  Check out the introductory video below.
Due to the nature of this digital product, there are no refunds, returns or exchanges.  Thank you for your order!