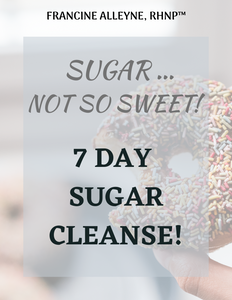 The 7 Day Sugar Cleanse has everything you need to crush your sugar cravings.
This self-paced program includes:
Yummy recipes filled with nutrients to help curb your sugar cravings!

A detailed shopping list and suggested meal plan!
My Guide loaded with tips to help you through the 7 days and beyond!
A journal to help you track those times when you crave sugar!
If you are drawn to sweets all the time, relying on sugar for a pick-me-up, are struggling with cravings, crashes, fatigue, and unwanted weight gain, you need this program.
Due to the nature of this digital product, there are no refunds, returns or exchanges.  Thank you for your order!